The Paradise Ghetto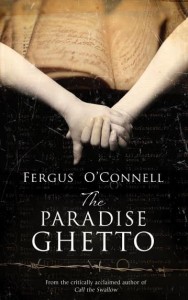 In 1944 two young women are deported to the German concentration camp for so-called 'privileged' Jews at Theresienstadt.  As an antidote to their appalling conditions they begin to write a novel.
At first their novel is just an escape – an imaginary world into which they can withdraw and find comfort.  But as their story unfolds it becomes a way they communicate their feelings to each other and – ultimately – confront their own demons.
They become convinced that the war will end when they finish their story.  But it is the frenzied last year of the Final Solution.  As the darkness gathers around them, they find themselves in a race not just to finish the novel but to somehow find a means of survival.
The Paradise Ghetto is a meditation on creativity and on the part books play in our lives but ultimately it is the story of two people whose lives are drawn together in unimaginable circumstances.
"The second of my novels set during the Holocaust.  Two complete novels – one inside the other.  The best thing I've ever written."