About Fergus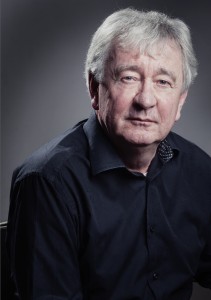 The Sunday Business Post has described Fergus O'Connell as having 'more strings to his bow than a Stradivarius'.
His first novel, Call The Swallow, was described by The Irish Times as 'better than Schindler's Ark' [itself a Booker Prize winner]. Call The Swallow was short listed for the 2002 Kerry Ingredients Irish Fiction Prize and nominated for the Hughes & Hughes / Sunday Independent Novel of the Year.
Between 2009 and 2014 he wrote a quartet of period love stories called The Four Lights – Starlight, Sunlight, Moonlight and Candlelight. His sixth novel, The Paradise Ghetto has just been published.  He is currently working on a new novel. Two of his books have been optioned.
Fergus has a First in Mathematical Physics from University College Cork and is one of the world's leading authorities on project management. His company – ETP (www.etpint.com) – and his project management method – The Ten Steps – have influenced a generation of project managers. In 2003 this method was used to plan and execute the Special Olympics World Games, the world's biggest sporting event that year. Fergus's experience covers projects around the world; he has taught project management in Europe, North America, South America and Asia. He has written on the subject for many publications including The Wall Street Journal. He has lectured at University College Cork, Trinity College Dublin, Dublin Institute of Technology, Bentley College, Boston University, the Michael Smurfit Graduate School of Business and on television for the National Technological University. He holds two patents.
Fergus is the author of fifteen business and self-help books. The first of these, How to Run Successful Projects – the Silver Bullet, has become both a bestseller and a classic and has been constantly in print for over twenty years. His book on common sense, Simply Brilliant – also a bestseller and now in its fourth edition – was runner-up in the W H Smith Book Awards 2002. His books have been translated into twenty five languages.
Fergus has also written a book on project management for children. Entitled, How To Put A Man On The Moon If You're A Kid, the book is one of a pair of books to teach the essential skills of project management and time management to schoolchildren.
He has two children and lives in rural Cheshire in England.